NEWS / EVENTS
Robspeed Bike night at Cadwell park 2013
Well it has soon come round again but Friday August 2nd 2013, See's the now famous annual Robspeed bike night at Cadwell Park.
What started out as a small bike night at a local village pub in swallow has gone from strength to strength and is now one of the major highlights on the Bike event calendar. After the overwhelming success of the first robspeed Bike night 5 years ago, common sense suggested and the local authorities insisted that the bike night should be moved to a much bigger venue After searching out alternative venues big enough to handle the bike night Cadwell Park was the perfect choice.
The Proceedings kick off at 5:30 and run until late. Entry to the 2013 Robspeed bike Night is Free to enter and some of the attractions include Trade Stalls, Live Music, a hog roast and more. Camping is available.
Track Night Places available
In addition to the Live band, Trade stalls and displays from various suppliers, we also run a track evening where you can take your own machine and experience the thrills of one of the Uk's most challenging tracks. Starting at 5.30 on Friday 2nd August and running through to around 10.30 (later if your camping-the band finishes around 11.30-12.00.) Track night places are available for £45.00, For more information Ring: 01472 268714 for more details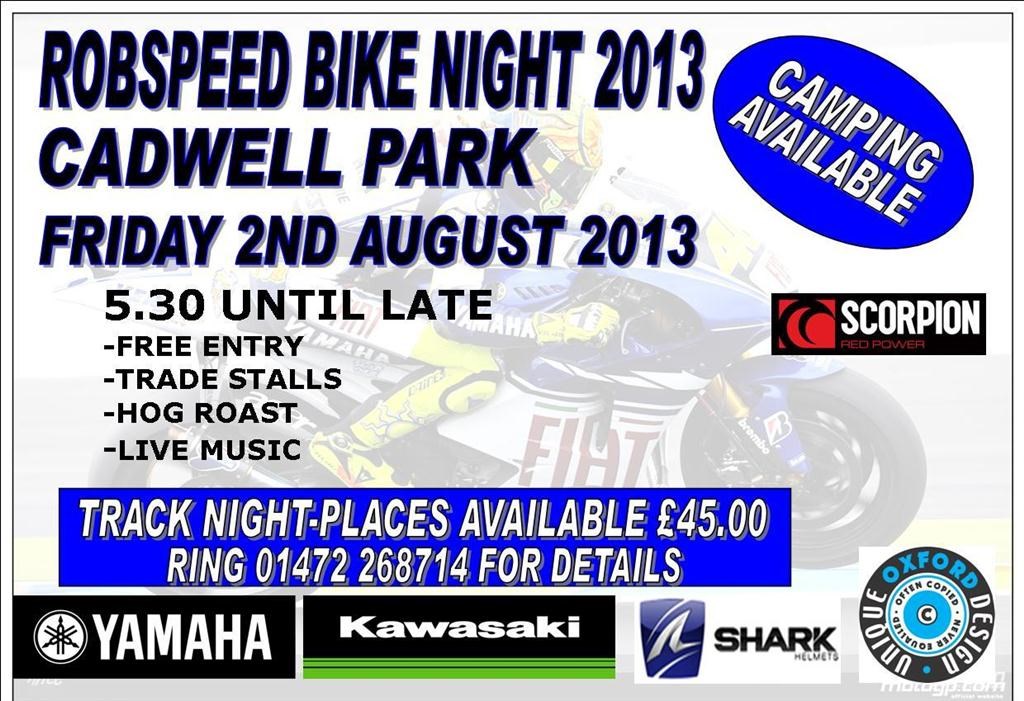 Return to the previous page